Using sweet seasonal berries and an easy prep crumble topping, this delicious high protein, low carb, vitamin & antioxidant-rich dessert will become a new favourite winter warmer.
The recipes serves 2, yet you can double the ingredients to serve 4. Catering for gluten -free, wheat-free, egg-free, paleo diets.
I hope you enjoy this as much as we do! Tracie x
Serves 2
Crumble Ingredients :
1/2 Cup Almond Meal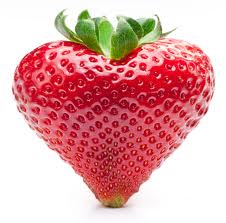 1 Tbsp Coconut Flour
1/2 tsp Baking Powder
1 Tbsp Coconut Sugar
1 Tbsp Coconut Oil (melted)
1/4 Cup Milk/Mylk
1/2 tsp Vanilla Extract
1/4 tsp Cinnamon Powder
Berry Base:
1.5-2 Cups Sliced  or Small Berries (We found sliced strawberries and blueberries worked well)
1 Tbsp Lemon Juice
Preheat Oven at 180C
In an oven proof dish, add berries and lemon juice. Stir to combine.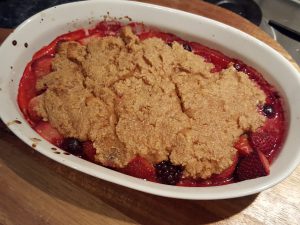 In a separate bowl, combine the dry ingredients : Almond Meal, Coconut Flour, Baking Powder, Coco Sugar & Cinnamon. Then add the wet ingredients : Milk/Mylk, Coco Oil & Vanilla)
The texture should be thick and easy to scoop.
Place scoops of the crumble onto of the berries, using a large spoon or spatula. It may not entirely cover berries, but it does spread when its in the oven.
Bake for 20 – 25 mins and allow to cool for 5 mins before serving with your favourite sf yoghurt, co-ghurt , sf cream or on it's own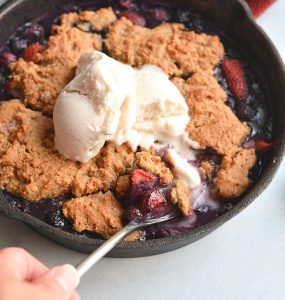 Recipe adapted from Skinnyfitlicious Berry Cobbler 
Share and Connect: