When I'm asked to name one of the most effective actions that we all should take on board to improve health, it's to increase vegetable intake. Almost everyone in every country around the world could benefit from increased plant/vegetable intake, especially if that also meant eating less processed or sugar-laden foods (junk!).  The second most effective action would to be stress less, and thankfully this easy to prepare recipe caters for both. (FYI – Third would be to assure adequate water intake, and we've taken care of that too!)
Hope you enjoy these delicious savoury muffins as much as we do.
Pumpkin, Tomato and Spinach Savoury Muffins
Makes 15 muffins/ 25 mins prep / 20 mins bake
Ingredients:
2 Cups Pumpkin, cubed and cooked
1/4 Cup Sundried Tomatoes, sliced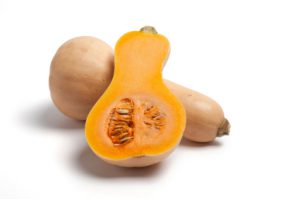 1 Cup Baby Spinach, diced
1.5 Cups Self Raising flour/ Gluten Free SR Flour
2 Large Eggs, lightly beaten
3 Tbs Sunflower Seeds
3/4 Cup Milk (Full cream, your choice)
3/4 Cup Parmesan cheese, grated
1/4 Cup Feta cheese, crumbled
2 Tbs EV Olive Oil
Shake of Sea Salt and Black Pepper
Handful of Pumpkin Seeds for topping (optional)
Method
Bake your pumpkin ~ Preheat oven to 200C (400F), place cubed pumpkin on a line tray and brush with 1 Tbs Olive Oil. Bake for 15 – 25 minutes or until cooked through entirely. Set aside to cool.
In a large mixing bowl add the spinach, sunflower seeds, parmesan, feta, sundried tomatoes and cooked pumpkin. Gently fold together.
In a separate smaller bowl whisk the eggs, 2 Tbs Olive oil and milk together, then add this to the pumpkin mix. Gently fold.
Sift the flour onto the pumpkin mix, top with the salt and pepper and gently fold together, being careful not to over mix.
Spoon the mixture into your well greased muffin tin or using silicon cups in place, filling each hole approx. 3/4 full.  Top each muffin with a few pumpkin seeds (optional).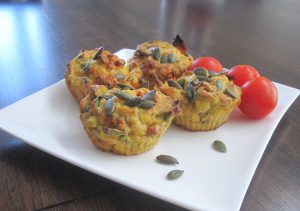 Bake for approx 20 minutes and when the muffins have cooked through completely. Let them cool for a couple minutes on a cooling rack before serving or storing, and enjoy with a fresh glass of water.
Can be stored in an airtight container in the fridge for up to 1 week or frozen for a couple of months.
To your good health! Tracie
Share and Connect: