CARROT CAKE that's healthy, tasty, easy to make and conveniently muffin sized. This recipe is one of our favourites and it's perfect for busy mornings or as a satisfying snack for any day of the week. Made with vegetables, nuts, spices, and a little sweetness makes it very nourishing and satisfying too. There's a substitute for anyone needing nut-free. It's a healthy, sweet cake muffin that the whole family can enjoy at any time of the day.
Find the full recipe below, or you can watch me prepare it, step-by-step, on video here 
CARROT CAKE MUFFINS
Makes 15 Med Muffins
5 min prep // 30 – 40 mins bake
2 Carrots, washed and trimmed (alternate – 1 carrot and 1 zucchini)
1 Cup Raw Walnuts *
1 Cup Almond Meal *
2 Eggs
1 Chia Seed Egg (3 Tbs Chia Seeds + 1/2 Cup Water)
1/2 Cup Coconut Oil or Butter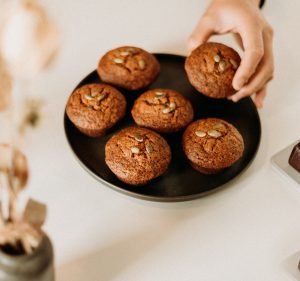 1/2 Cup Maple Syrup, Honey or Rice Malt Syrup
2 tsp ground Cinnamon
1 tsp ground Nutmeg
1 tsp Baking Powder
2 tsp Baking Soda
* Nut Free : replace nuts with quinoa flakes &/or oats 
Oven preheating on 180C (356F)
Make chia egg by placing chia seeds into a cup with water and letting stand for approx 3 mins
Place carrots (and zucchini) into a food processor and pulse until chopped into small pieces
Add nuts & meal (or alternatives) to the processor and pulse until chopped and combined well with vegetables
Add all other ingredients and combine well until the mixture is smooth and holding together
Line or grease muffin tin and spoon mixture in
Bake for 30 – 40 mins, removing from oven when muffins are browned and cooked through
Serve warm or cool. The house will smell amazing too 🙂 Keep in the fridge in an airtight container for up to 1 week or in the freezer for up to 2 months.
If you're looking for another easy, healthy recipes and would love a meal planner + shopping list to match, I created all that in a Recipe Pack that you can access here.
Hope you enjoy these muffins as much as we do! Please let us know if you try them, tag me on IG @tracietalkshealth  and share it with others that love a healthy cake muffin too.
Tracie 🙂
Tracie Connor is an Accredited Nutritionist specialising in gut health, weight management, stress management and genetics (nutrigenomics).
Find out what foods will help you feel great, with a tailored nutrition consultation. Contact us today to make a booking and change your life for the better, forever.