If there's one thing you'll always find in our fridge and freezer, it's homemade healthy muffins.  Since having our daughter, returning to work and basically being busier than ever before – they're a daily 'on the run' staple.
This Sweet Carrot Cake Muffin is a favourite – full of vegetables, nuts and seeds and a hint of sweet that makes them really satisfying, nutritious and tasty. It's also a very convenient and much loved grain free, gluten free and dairy free snack. Perfect for the fussy ones who won't touch vegetables too!!
I'm all for the slow movement; making time to sit and eat meals mindfully without rush – but sometimes that just can't be done. No matter how busy or rushed we are, the one thing we never skimp on is nutritious food, and trick to it is not magic at all. It's simply devoting a little time to prepping healthy meals and snacks in advance.
Sweet Carrot Cake Muffins
Ingredients :
Makes 18 medium muffins
1 Lge Zucchini, washed and trimmed
3 Med Carrots, washed and trimmed
2 Eggs (free range / organic)
2 Cups Raw Walnuts / or Walnut Meal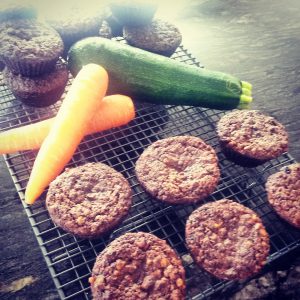 2 Cups Raw Almonds / or Almond Meal
1/2 Cup Coconut Oil (unrefined; room temperature)
1/2 Cup Maple Syrup (pure) / Honey or Rice Malt Syrup
2 Tbs Chai Seeds
1 Cup Water
2 Tbs Pumpkin Seeds
2 tsp Ground Cinnamon
2 tsp Ground Nutmeg
2 tsp Baking Powder
1 tsp Baking Soda
2 Tbs Sultanas (optional)
Method :
Preheat oven to 170C . Line/grease 18 muffin trays.
In a medium sized cup, add chia seeds to water and let stand for approx. 10 mins to form a gel.
Place zucchini and carrots into a food processor and pulse on high until finely chopped.
Add nuts/ nut meal to the processor and blend on high until finely chopped and blended. Add chia seed gel and remainder of the ingredients to the processor, except for pumpkin seeds and sultanas. Pulse until the mixture is well combined.
Remove the processor lid, and using a spoon add the seeds and sultanas and mix them into the mixture. Spoon the mixture into your muffin tray, allowing a little room for the mixture to rise.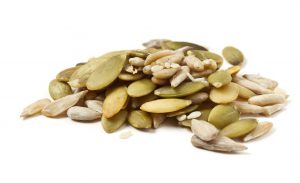 Bake for approx. 30 mins or when they're browned and cooked through.
They're delicious served warm or cooled, can be stored in an airtight container in the fridge for up to 1 week and frozen in an airtight bag/container for up to 2 months.
I'd love to hear what you think, please comment below and share share share!
Tracie 🙂
Whats the latest? Check out my comments about good food for babies and toddlers in the SheKnows article 'Paedatric nutritionists speak about babies diet'
Share and Connect: