Bring out the slow cooker, this one's a winner! Its an unbelievably easy dish to make and incredibly delicious, ticking all of the nutrition boxes for a balanced meal too.
Using a whole organic chicken, coated in extra virgin olive oil and lemon and herb bone broth body glue, sitting on top of vegetables and slow cooking while you get on with life.
The end result is nothing more than culinary magic, with flavorsome chicken cooked perfectly, never dry, and marinated slow-cooked vegetables to serve.
It takes only 5 mins to wash and cut the vegetables and paint the chicken. Place them in the slow -cooker and when it's done, serve and be satisfied after a long day.
Nutrition Tips – for a good sleep, eat tryptophan -rich foods such as chicken for dinner. And always combine your vegetables with healthy fats, to absorb the nutrients within the vegetables. They taste better that way too!
Slow Cooked Lemon and Herb Chicken 
Serves 4 -6
Ingredients 
4-6 Cups vegetables, chopped – adjust the amount with the size of your slow cooker. We used a mixture of red and sweet potatoes, zucchini, carrot and red onion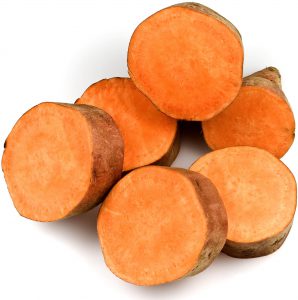 1 Whole Organic Chicken
1 Tbs of GevityRX Lemon and Herb Bone Broth Body Glue (Ingredients Australian Grass-Fed Beef Bones, Naturally Evaporated Sea Salt, Parsley, Coriander, Oregano, Sumac, Lemon Myrtle, Thyme, Galangal, Chilli, Turmeric, Black Pepper, Cumin, Mint)
2 Tbs Extra Virgin Olive Oil
Fresh Herbs (optional) 
Method 
Preheat your slow cooker and add chopped vegetables to the base. This gives a platform for the chicken to rest on and cooks the vegetables in the juices. Add fresh herbs on top of vegetables here too.
Combine the Lemon and Herb Bone Broth Body Glue and Extra Virgin Olive Oil in a small bowl, and using your basting brush, paint the whole chicken with the Body Glue and Oil mix. Allow some mixture left over to add before serving.
Place the coated chicken in the slow cooker, resting on top of the vegetables, and set the cooker to 5 hrs high or 8 hours on med/low heat. The chicken is cooked when there are no juices flowing after a prick through the meat, or only clear juices.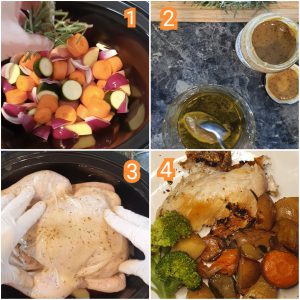 You don't need to add any water to broth to this. The vegetables cook in the marinade and juices.
Before removing the bird to serve, paint the remainder of the Body Glue and Olive Oil mix on the chicken and keep cooking for a further 5 mins.
Serve your slow cooked masterpiece as is, or if you'd prefer a darker and crisper – looking chook and vegetables, reach for your grill and add them under there for a further 5 – 15 mins to brown, crisp and dry off.
Slow cooking a roast chicken is the easiest solution, you'll be hooked once you try. Set up in the morning for your success in the evening.
GevityRx is an Australian made and owned brand supplying the best quality and most delicious Bone Broth Body Glue products, world wide. Their Bone Broth Body Glues and Sauces provide 10 x the collagen compared to other broths and they only use quality ingredients in their products. Nutritionist – approved and I'm proud to recommend them.
Please let me know if you try this recipe.
To your good health, Tracie x
Tracie Connor is an Australian Accredited Nutritionist specialising in womens health, gut health, weight management and genetics (nutrigenomics). 
Catch her regularly featured in the Sydney Morning Herald, Womens Health & Fitness Magazine, Huffington Post and on ABC Radio.