3 of our regular, wholesome recipes came together to make this easy, glass-framed, 3 -tier masterpiece ~ and there the Berry Jelly Chia Pudding w Oats was born. Why have only one at a time when you can easily combine and have all 3!
Each layer is nutrient -rich, packed with flavour and very satisfying. I explain more about each layer in the recipe links below, because each layer has it's own post as an individual meal/snack.
Layer 1 is jelly, using the gut loving gellies recipe. Layer 2 is chia seed pudding, using the classic recipe of chia seeds and liquid. Layer 3 is overnight oats, using the classic recipe of oats and kefir.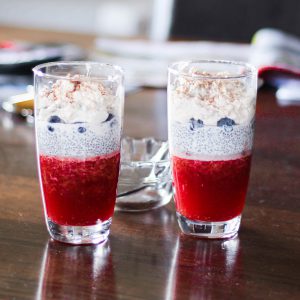 There are so many possible variations to the top layer or for the flavours within each layers, so this is the time to bring out your experimental food magic and try whatever you'd like. Some people have suggested crunchy granola as a topping instead. Others say kiwi fruit flavoured jelly or choc chia seed pudding would be perfect as alternate flavours. I was also considering using yoghurt with toasted flakes of coconut on top instead of oats. The options are endless.
If you make this recipe I'd love to hear what you did! Please let me and others know by commenting on this post, or tag me on FB @tracieconnornutritonist or Insta @tracietalkshealth so I can see and share. Tracie x
Berry Jelly Chia Pudding w Oats 
Recipe for each layer is via links below
Method
Prepare Jelly and refrigerate to harden & set within glasses (approx 20 – 30 mins)
Prepare Chia Seed Pudding in separate glass/bowl and add on top of the set jelly. Cover and refrigerate for approx 20 mins
Prepare Overnight Oats in a seperate glass/bowl.
Once Chia Seed Pudding has set and is solid, scatter blueberries on top (optional) before adding overnight oats as topping
Serve chilled and enjoy!
Can be made in advance and kept covered the fridge for up to 48 hours.
1st Layer – Jelly 
2nd Layer – Chia Seed Pudding
3rd (top) Layer  – Overnight Oats
Tracie Connor is an accredited nutritionist specialising in womens health, gut health, food allergies & weight management. Contact us to book a personal consultation to help you reach your health goals. Based in Brisbane, Australia. Skype consultations available nationwide. 
You can find her regularly featured in the media discussing a variety of nutrition and health topics, such as within  Sydney Morning Herald, Womens Health & Fitness Magazine, Huffington Post and on ABC Radio