Wanting to impress without the stress, and feel really nourished with a tasty meal; the One Pan Creamy Chicken and Garlic has your name on it!
My family and I crave this on the regular, and often mix it up by adding prosciutto pieces, sundried tomatoes or parmesan in the coating. The recipe below is a canvas to expand on, yet it tastes amazing as is too. Flexible and so tasty, easy – make, using everyday nutritious ingredients like Garlic, Extra Virgin Olive Oil, Butter, Bone Broth Concentrate, Lemon juice and Thickened cream.
One pan to cook and clean up makes it all the more appealing!! When our stove top was out of action I took this photo, and a small camp stove worked perfectly to produce the meal we wanted. And if you're curious about the garlic content, the taste is very mild once you sauté the cloves. For garlic lovers, I recommend adding the garlic powder for more taste punch.
Nutrition-speaking, the highlights are the quality macros balanced with protein, vegetables and healthy fats combination. This really helps your body and mind prep for a good night sleep & restore, especially if the meal is eaten a few hours before bed.
One Pan Creamy Chicken and Garlic
Serves 2 : Cook Time 20 mins : One Pan 
2 large Chicken Breasts, cut in half lengthwise
Flour for dredging
1 head of Garlic Cloves, peeled
2 Tbsp Bone Broth Concentrate (we use GevityRx)
1 Tbsp EV Olive Oil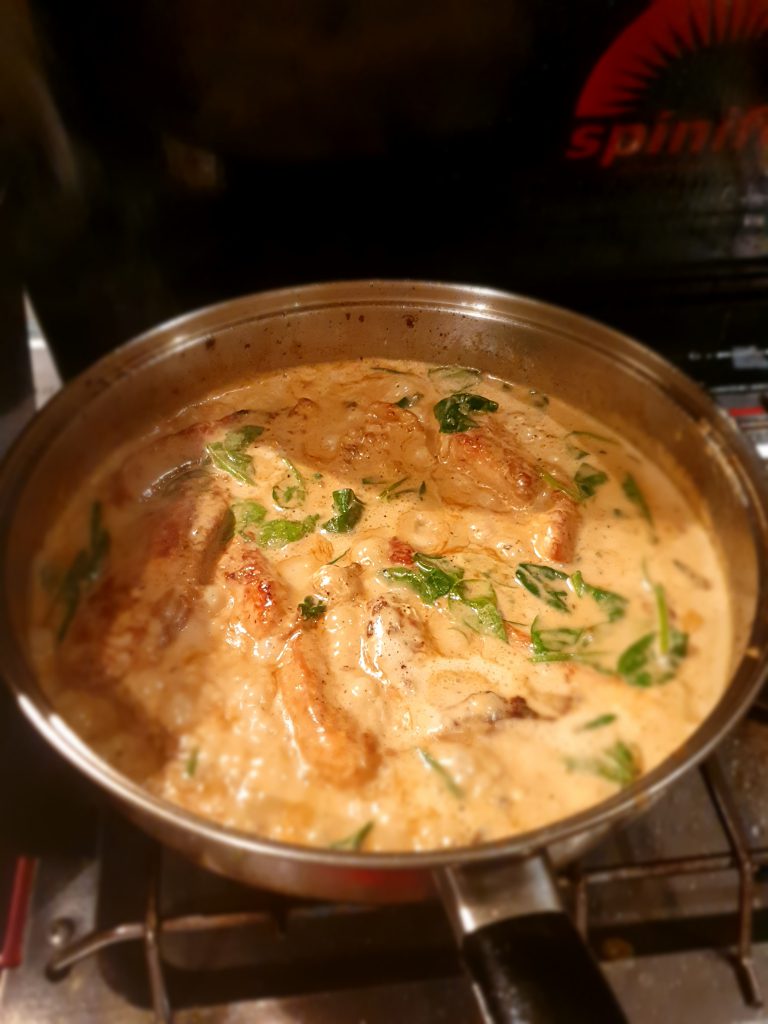 2 Tbsp Butter divided
1/2 tsp Lemon juice
1 cup Thickened Cream
Salt & Pepper to taste
1 Cup of sauté- friendly vegetables
Optional : 1/4 tsp Garlic Powder
Step 1. Cut the Chicken in half, lengthwise to achieve 4 thinner cutlets
Step 2. Chop your vegetables into bite size pieces and peel your garlic cloves
Step 3. Sprinkle your Chicken with salt & pepper and coat them in the flour
Step 4. Add the Olive Oil and 1 Tbsp of the Butter to a wide pan over medium heat
When the pan is hot, sauté the chicken on both sides until it's nice and golden. Then take the chicken out of the pan and set it aside
Step 5. Reduce the pan heat to medium, and add the other Tbsp of the Butter to the pan. Let it melt and add the garlic cloves and vegetables
Cook them for 3-4 minutes, stirring often, until the garlic is lightly browned on the outside
Step 6. Add the Bone Broth Concentrate, 1/2 Cup of water, Lemon juice, and Garlic powder (optional) to the pan. Let it cook for around 4 minutes, or until the liquid has reduced.
Step 7. Stir in the cream and add the Chicken back into the pan. Let it all cook for another 5 – 7 minutes, until the sauce is reduced and the chicken is cooked through.
There are so many options for serving suggestion, yet we love it with fresh salad & steamed rice, or baked greens and sweet potato. Chopped parsley & basil are perfect herbs to sprinkle too.
I'd love to hear from you if you make this recipe! Please let us know in the comments below.
Tracie x
Tracie Connor is an Accredited Nutritionist specialising in gut health, weight management, stress management and genetics (nutrigenomics) 
Find out what you should be eating to feel great, with a tailored nutrition consultation. Contact us today to make a booking and change your life for the better, forever.